Voiles en Voiles is a family adventure park in the Old Port of Montreal that will make you experience memorable emotions! In summer and winter, take part in the outdoor action in the unique world of royal ships and pirate ships. One of the things to do in Montreal that families love most!
In summer, climb aboard our spectacular life-size ships. Experience our aerial courses that will please both the agile little adventurers and big buccaneers thirsting for thrills. The site also has the Pirates Movie Theatre, climbing walls, inflatable games and a totally safe archery tag arena that will give you adrenaline rushes!
In winter, at Voiles en Voiles you can play outside in our fun universe with diverse winter activities like tube sliding, snow scooter, a hebertism course on the ground and our archery tag games with bow and arrow in foam. And when your cheeks are red, you can warm up on the terrace and enjoy snacks and hot drinks.
For the 2020 season, we have put in place special measures to limit the spread of COVID-19. It is therefore mandatory to
purchase your tickets online
.
We also recommend that you visit the
Frequently Asked Questions
section to find out about all the measures currently in force in the park.
If you are a group of more than 20 people or if you wish to celebrate a children's party at Voiles en Voiles,
contact us to make a reservation
!
Voiles en Voiles will be open from Saturday, June 20th!
June 20 to August 30:
Monday to Sunday: 10 a.m. to 6 p.m.
September 5, 6 and 7:
Saturday, Sunday and Monday: 10 a.m. to 6 p.m.
September 12 to October 5:
Saturday and Sunday: 10 a.m. to 6 p.m.
October 10, 11, 12:
Saturday, Sunday and Monday: 10 a.m. to 6 p.m.
October 17th to November 1st
Saturday and Sunday: 10 a.m. to 6 p.m.
Schedules may be subject to change depending on weather conditions.
Voiles en Voiles is usually open as soon as spring returns to Montreal in April until October. The park is also open in
December for the holiday season with its winter park
.
Safety is our number 1 priority at Voiles en Voiles.
To ensure safety, we use one of the
easiest and safest systems in the world
, Saferoller from the company
Kanopeo
. Our life lines make it
impossible for a participant to become detached during the course
. If a problem or sudden feeling of dizziness happens to occur during the course, one of the members of our team, trained for this purpose, can quickly intervene at any time.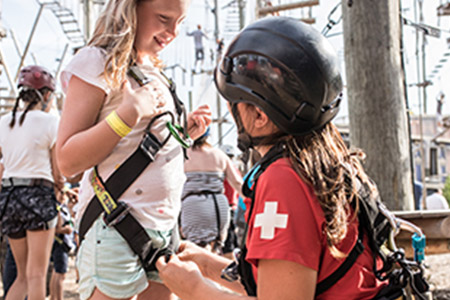 Harness and Helmet
Anyone who wishes to try one of our aerial courses must be equipped with one of our harness and helmet. We own harness with straps adapted for children under 10 years old.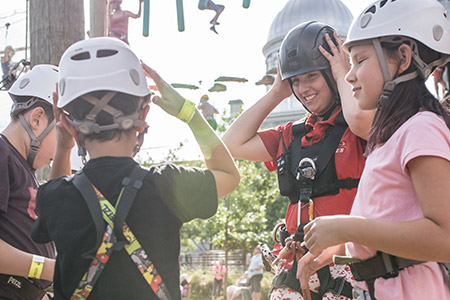 Height and Weight
There is no minimum size or weight to climb onto one of the aerial courses. Some courses, however, requires to have completed other courses for children under a certain age. The maximum weight is 250 pounds.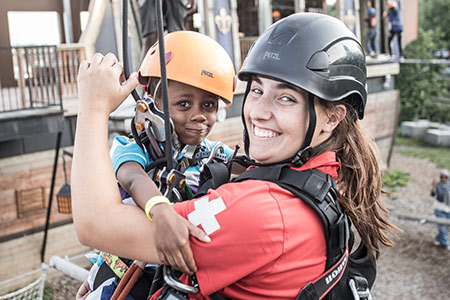 Our patrol team
Our patrol team is trained to accompany you or intervene at any time, no matter where you are in the adventure aerial courses.
Our ratings are excellent do not hesitate to leave yours!
Great reviews from everywhere!
What's fun about Voiles en Voiles is that it's for the whole family. ... Don't miss it if you're looking for something to do!

Really great! To do and redo !!!

A beautiful jewel of the old port of Montreal. Arrive early to enjoy more! We had a very nice 4h!

Super family activity !!!

Our most beautiful activity of the summer. It's a very fun activity for both parents and children ... fun for everyone! And above all, it is very well supervised and very safe, even for the little ones. We loved it!

We took advantage of every minute of the 4 hours package

Again! We do not want to leave !! (My children and, quite honestly, the parents too!). The new online booking system works really well and the waiting time was minimal. We took the 4 hour package and took advantage of every minute! ... A "must" in Montreal!

Magical experience

My seven year old daughter had a magical experience with her daddy yesterday! She did all the courses with him .... This morning, she said she had more confidence in her. For me, it's worth a lot! We will return for sure!
Our involvement in the community
The Leucan Journey
The Leucan Journey, powered by Voiles en Voiles is a thrilling, challenging and slightly competitive event catered for individuals willing to push their limits while contributing to the recovery and the well-being of cancer-stricken children and their families.
Hosting Help Service of St-Denis
The St-Denis Hosting Help Service welcomes homeless youth in difficulty. A team of professionals offer them individual support in the implementation of personal strategies to improve their autonomy and their responsibility.

Voiles en Voiles gives $ 1 for each family package purchased.
The team behind Voiles en Voiles
Our company
Voiles en Voiles is a company related to Groupe Écorécréo, which specializes in the development and management of tourist attractions in Quebec.
Founded over 17 years ago, the Groupe Écorécréo is one of the largest developer and manager of tourist attractions in Quebec, including locations at the Old Port of Montreal and Jean-Drapeau Park.