Rediscover the joy of playing outside at Voiles en Voiles!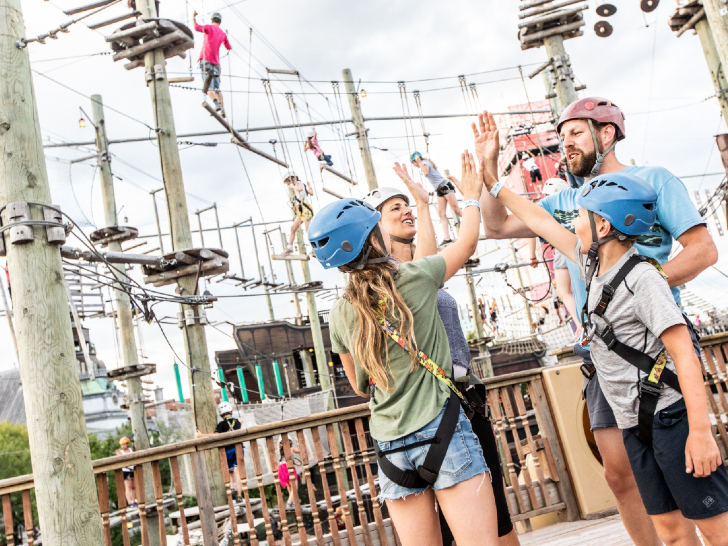 The beautiful season is finally upon us and the Old Port of Montreal is the perfect place to enjoy it. Looking for fun family activities to do together? The Old Port of Montreal has so much to offer!
We couldn't wait to get back to the pleasure of playing outside in our
big adventure park
! Voiles en Voiles, with its aerial courses, inflatable games, climbing wall, archery is the perfect place to spend a
nice day with the family
.
Our team has put everything in place to make sure you have fun and safety. We also thank you for encouraging local purchasing by supporting a
100% Quebec tourism company
!
New measures to combat the spread of COVID
For the 2020 season, specific measures have been put in place to limit the spread of COVID-19. Thank you for your help in this collective effort!
All persons on the site must have a ticket.
Signing of the release online before arriving in the park http://decharge.voilesenvoiles.com/
Mandatory wearing of masks by employees and participants when the social distancing rule cannot be respected (e.g. in the toilets, beginning of aerial courses, harnessing, etc.). You will have to provide your own masks.
Social Distancing Rule in effect in queues and activities
All persons on site must have a ticket. If you do not wish to do the activities you must purchase a companion ticket.
Reduced capacity of the number of visitors to the site
All members of your group or family must be present at the same time to access the site at the time of your reservation.
Mandatory hand washing upon arrival at the site and hand disinfection before each activity
Checking for symptoms on arrival
Cleaning of equipment (helmets, carousel, 3D glasses, bows and arrows) after each use
Contactless payment (beverage, souvenirs, etc.)
Dedicated safety equipment installation station per family
Cannot re-enter the park once out (unless a new ticket is purchased).
We look forward to seeing you again this summer and thank you for supporting us!
The Voiles en Voiles team